Production Lighting hire - Theatre - Concert - Corporate - London - Essex
Range of Production Lighting Hire stock
Phantom 3R Beam Hire
The Showtec Phantom 3R Beam is a compact yet powerful moving head with a 3R 150W discharge lamp from YODN. And with its narrow beam angle of only 3.5 degrees, it is ideal for combined use with other high-power light effects.
With this fixture, you can create a huge variety of stage effects, thanks to 14 colors + white, split colors and rainbow-flow effects, gobo, prism and focus. By using the frost filter, you even can turn the beam into a wash light.
The Phantom series includes a range of very reliable fixtures with high performance and yet low power consumption. It offers you all capabilities and functionalities to handle today's lighting requirements.
Phantom 3R Hybrid Hire
A moving head that combines a spot and beam, and can even act as a wash light with with the built-in frost filter.
Whether on stage or as a fixed effect light in any entertainment venue, this fixture will ensure that all your lighting requirements are met.
The Phantom 3R Hybrid is equipped with one colour wheel, offering both saturated and pastel colours, motorized focus, zoom and both fixed and rotating gobo wheels. The circular and linear overlapping prisms, combined with a 3R OSRAM discharge lamp, provide impressive projections and beautiful mid-air effects.
Fusion 120 wash hire
The Equinox Fusion 120 Zoom is a 7 x 12W LED Moving Head with motorised zoom allowing for a variable beam angle from 6° – 45°. The fixture is powered by 7 x 12W RGBW quad-colour LEDs. With its quick speed and built-in light shows, the fixture brings pure lighting stunning hues and colour washes to any venue.
18 x 3 in 1 3w Led Parcan Hire
For versatile use it offers DMX control, music control and master-slave control.
The fixture is equipped with 7 built-in programs for stand alone use. For all stand alone programs speed and strobe can be adjusted.
LED: 18x RGB 3-in-1 LED

Power supply: 240V / 50 Hz
Power consumption: 65W
Powerlead: 150cm, Schuko connector
Control: DMX, Auto, Music, Master/Slave
DMX: 3,5 Channels
DMX Connector: 3 pole XLR
Addressing: Digital
Beam angle: 40 degrees
ETC Source 4 Junior Zoom Hire
Compared to many conventional 650W and 1000W ellipsoidal spotlights, Source Four jr's 575 watts still deliver an even brighter light and offer the flexibility of multiple HPL lamp options and interchangeable lenses. The Source Four jr is perfect for -- but never limited to -- smaller theater venues, churches, schools,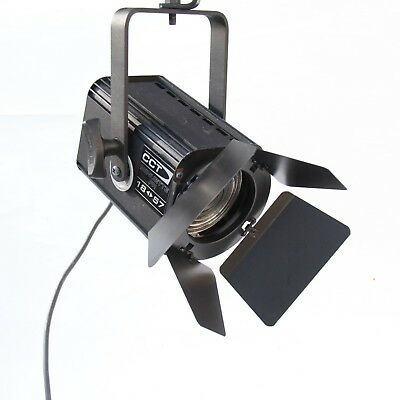 CCT 500w Fresnel Hire
The smallest, lightest and most versatile luminaire in the Minuette range. It is equally at home on the stage of the largest theatres, a school drama stage, or lighting an exhibition. Its soft-edged controllable beam is very even and well defined. The fresnel lens has been specially designed for the unit and is very efficient. The large beam angle range from 18 - 57 degrees, and the optional accessory of a rotatable four-leaf barn door, gives complete control of the beam shape. The beam angle is adjusted by a heat resistant knob under the unit. Sliding this toward the lens increases the beam angle - away from the lens reduces it. The heat resistant rear handle and the "T" shaped tilt locking handle give easy, cool control when adjusting the unit's position.