Radio Mic Hire - UHF wide band systems - Essex - London - Hertfordshire - Kent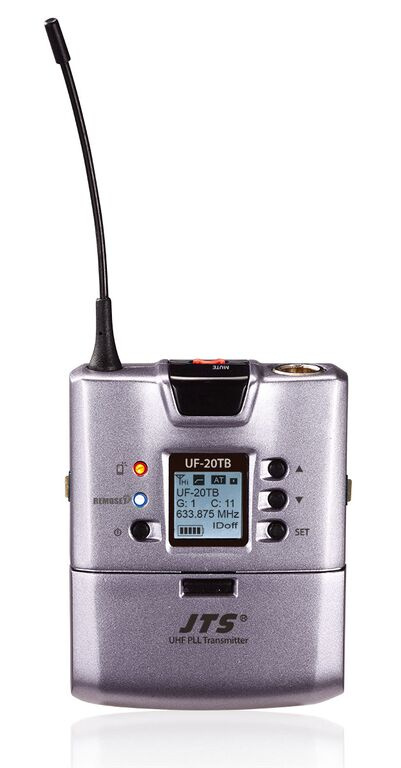 Introducing the new JTS UF 20 Radio Mic System available to hire
The JTS UF-20R is a dual channel true diversity wideband receiver featuring a free-space scan function, built in equaliser, alert functions, and power and antenna cascading. This receiver features remoset which enables the transmitters and receivers to wirelessly sync frequencies in under a second.
With the wideband multifrequency system UF-20... from JTS, it is possible to achieve a perfect solution for stage applications of high requirements due to an excellent flexibility and reliability.

Available in beltpack form or handhelds with a choice of standard mic capsule or Sennheiser 945 capsule or SE Electronics V7.
We have had superb performance with these mics with use outdoors and for theatre shows , outdoors use we have had ranges of 300m - 400m of RF range using the switchable high or low RF output.
Systems racked in fours 2 x dual receivers which can be cascaded to form up to 24 way systems with active directional antenna systems.
Wide band operation frequency 606 - 681 mhz gives maximum flexibility for system set up.
For more details and pricing email us info@choiceproductions.co.uk or call 01277 260355.
Radio mic hire london , Radio mic hire essex , Theatre mic hire , handheld wireless mic hire , Sennheiser 945 , Jts UF 20 , Wireless mic hire